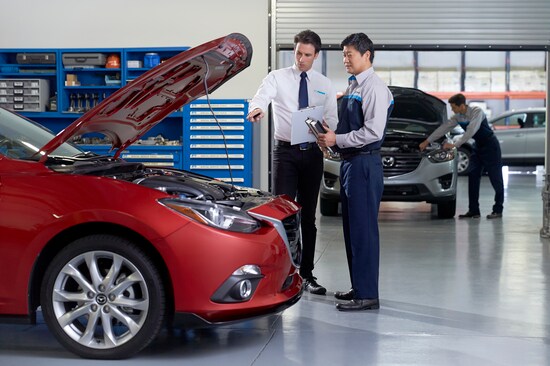 No matter how new or old your Mazda is, it is always essential to take great care of it. Part of this process involves having it serviced regularly. To make sure that this is done right, you will want to visit the service department at Tom Bush Mazda. We are a genuine Mazda dealer with certified technicians who know every part of each model on the road today. This is why you can count on us to keep your vehicle in excellent running condition and only to use genuine Mazda parts when something does need to be replaced. Here are a few recommended service appointments that you will want to make with us regularly in Jacksonville.
Regular Oil Changes Are Necessary
The engine in your Mazda is built to be strong and durable. It understandably must withstand high temperatures, but it does need some help to cool down at the appropriate times. This is what oil does for your vehicle. It lubricates the various parts and components that keep the engine working. Without the lubrication, way too much friction will build up and overheating will inevitably occur around Saint Augustine. This is why you want to keep your oil fresh. It should be changed at periodic intervals, so check your owner's manual for the details or ask [dealer] when you should have this done. Our certified service technicians can get your oil changed, and everything checked out properly for you in no time at all.
Check the Battery and Get it Replaced
You might go years without ever thinking about your battery, but this could come back to haunt you. It is your battery that provides the energy necessary to turn over the engine. Without enough juice in your battery, you will not be going anywhere. Extreme weather conditions can also be particularly hard on your battery. You do not want to get stranded miles away from home on the hottest day of the year because your battery has failed. It is essential to have it tested regularly. When the charge gets too low, the certified technicians at Tom Bush Mazda will know. They can then get it replaced for you before it is too late.
Tires Should be Rotated and Aligned
You will also want to make sure that you take proper care of your tires. This is often difficult to do at home because it involves having them rotated after about 6,000 miles of driving. This should be done because the tread on tires tend to wear unevenly depending on your driving habits and the model of Mazda that you have. When your tires are rotated and aligned regularly, you will end up extending the life of the entire set. When you have this service performed at our dealership near Jacksonville Beach, we will also make sure that your tires are properly inflated and that you are informed when they should eventually be replaced to keep you safe.
Get Your Brakes Inspected
Another vital maintenance appointment that you need to make for your Mazda involves your brakes. These must be inspected every so often. As you can imagine, brakes serve an essential function in your vehicle around Brunswick, GA. If your brake pads wear too thin, it will become difficult to stop as quickly as you need to. You also need to ensure that your brake fluid is kept at the proper level to keep your brakes functioning properly. These are all things that our service technicians near Gainesville can do when you schedule a brake inspection and service.
Visit Tom Bush Mazda to Learn More
Contact our team near Riverside, FL, and Ponte Vedra Beach when you are ready to bring your Mazda in for its next service appointment. You can count on us to do the job well and to get the various parts and components on your vehicle in excellent running condition. Our certified technicians are ready to serve you. We look forward to working with you soon!